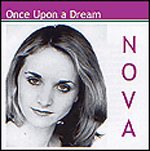 For Nova, completing her debut CD, Once Upon a Dream, was indeed a dream come true!
She had been trying to make the album over a five year period. However, finally in 2001, the opportunity presented itself whilst Nova was performing in Cats in Stuttgart, working with the Musical Director, Ralph Abelein.
Once Upon a Dream hit the shelves in the Summer of 2002, including Tower Records, Piccadilly and HMV, Oxford Street. Its principal supplier continues to be: Dress Circle.
Full track listing: (please note only certain tracks can be clicked on and listened to)
Track listing – Once Upon a Dream
Home
Dance 10, Looks 3
The Reason
My One and Only
Mr. Snow
Once Upon a Dream/How Could I Ever Know
Nova sang the role of Christina in the new operetta, His Excellency, words by W.S. Gilbert, music by Terry Hawes. Two clips can be found here:
In 2010, Nova made a CD for children, simply entitled Children's Musical Theatre, in collaboration with CRS Records. This was inspired by the birth of her daughter, Melody, and the role that music played in the first year of her life. It is in two sections, Wake Up and Wind Down.
It can be obtained from CRS directly at http://www.kidsmusicshop.co.uk, Dress Circle (see above), larger branches of WHSmith, Amazon and on iTunes. Here are a few selected clips for your interest.
At the end of 2014, Nova was asked to create the role of Kathryn in 'Apartment 40C', a new musical – book and lyrics by Ray Rackham, music by Tom Lees.
This was premiered in December 2014 at the London Theatre Workshop, Fulham. Here is Nova singing one of Kathryn's heart rending ballads, 'A Child'.